MICHELLE OBAMA AND MELANIA TRUMP PICTURED TOGETHER AT WHITE HOUSE MEETING AS DONALD TRUMP CONSIDERS ADMINISTRATION APPOINTMENTS.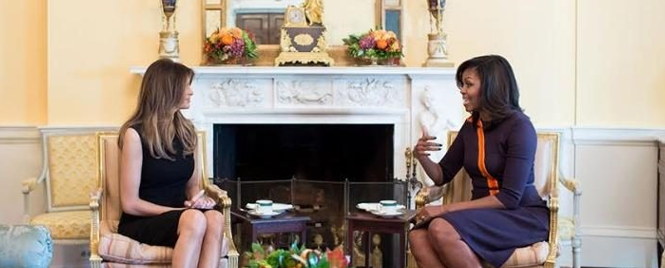 Melania Trump and Michelle Obama at the White House CREDIT: WHITE HOUSE
The White House has released an image of Michelle Obama speaking to Melania Trump - hours after the first lady and first lady-in-waiting met.
President Barack Obama has had what he describes as "an excellent conversation" with Donald Trump inside the White House, as the two former bitter enemies met in person for the first time.
Mr Trump, who has described himself as Mr Obama's "worst nightmare," told the president he was "a very, very good man."
On the campaign trail he repeatedly described him as weak, "a disaster," ineffective and "the most ignorant president in our history."
On Thursday, however, both men struck a conciliatory note after they met to discuss the transition from one administration to the next.
"We want to do everything we can to help you succeed, because if you succeed we all succeed," said Mr Obama.
There circumstances of the meeting were extraordinary. Mr Trump spent years claiming Mr Obama was born outside the US and was therefore not a legitimate president, while Mr Obama savaged him throughout the campaign as irresponsible and dangerous.
Protesters "riot" in Portland
Police in Portland Oregon have detained several people as an anti-Trump protest-turned violent with demonstrators breaking windows of businesses and starting a dumpster fire downtown.
Police termed the protest a riot and told people who had not returned to the designated square where the protest took place that they would be under arrest.
About 4,000 protesters were in the streets with chants like "we reject the president-elect."
Meanwhile in Colorado, anti-Trump protesters managed to shut down Interstate 25 near downtown Denver briefly Thursday night.
A crowd of several hundred had been marching through downtown Denver earlier in the evening waving anti-Trump signs before taking to the freeway.
The wounded male ego ...
The US election shows the wounded male ego is one of the most dangerous forces in politics, writes Cristina Criddle:
At Donald Trump's acceptance speech, the only thing louder than the president-elect was the braying of victorious male voices. Now, the blue-collared white man will beat his chest and roar until his throat is sore, because the Grand Old Party has won a vote to "make America great again" — and by great, they mean "male". And so on so furth.
Emerging markets extend post-Trump slump.
An emerging-markets selloff deepened amid concern developing economies will face capital outflows and weakening exports once Donald Trump is in The White House, Bloomberg reports. Treasuries capped their worst week since 2009 before a US holiday on Friday.
MSCI gauges of emerging-market equities and currencies sank to four-month lows since the election of Mr. Trump, who plans to adopt a more protectionist trade stance while introducing fiscal stimulus that's seen hastening interest-rate hikes by the Federal Reserve.
More than $1 trillion was wiped off the value of bonds this week, something that's happened only once before in the last two decades, and Bloomberg's dollar index is headed for its biggest weekly gain since May 2015. Shanghai shares were set to enter a bull market.
Zuckerberg denies fake stories swayed election.
Mark Zuckerberg has rejected the idea that fake news on Facebook influenced the US presidential election and said echo-chambers aren't really a problem on the site.
The co-founder of the social network was responding to criticism following Donald Trump's victory in the elections, from people who argued the company allowed false information to run rampant on its site and that its algorithm tended to amplify the voices people wanted to hear, instead of providing a full picture of what was going on.
Mr. Zuckerberg, speaking at the Technology conference in Half Moon Bay, California, said the company certainly has work to do to improve the news feed, but said false stories were a small portion of the content shared.
"That it influenced the election in any way is a pretty crazy idea," he said. People vote based on their life experiences, and anyone who thinks fake news contributed to the outcome betrays a "profound lack of empathy" for Mr. Trump's camp, he said.
Facebook has constantly studied the effect of its news feed. Mr. Zuckerberg says the idea that it shields people from diverse opinions is a misconception -- a particularly difficult theory for him to quash.
"All of the research we have suggests that this hasn't really been a problem. The biggest filter in the system is not that the content isn't there, but just that you don't click on it."
Actor Voight urges Trump to build wall.
Hollywood star Jon Voight has urged President-elect Donald Trump to stick to his pledge to build a wall on America's border with Mexico.
The Oscar-winning actor, who has been a vocal supporter of Mr Trump, made the comments at the world premiere of Fantastic Beasts And Where To Find Them in New York, which was also attended by JK Rowling - a fierce critic of the president-elect.
Voight told the Press Association he felt "very good" about the election result and he was "glad the American people stood by" the tycoon.
"I worked very hard for him. I love Donald Trump. The media all across the world were negative about his chances so it surprised a lot of people.
"I'm very glad the American people stood by him and I think everybody has got to take it easy a little bit. I know they're hurting. I was hurt in the same way when Mitt Romney lost.
"I know it hurts you deeply but take it easy, take a deep breath. He's going to do a lot of good things and very quickly."
Voight, 77, said he believed a wall on the US-Mexico border was required to prevent drug trafficking into America.
"Yes I think the wall is needed. The amount of drug traffic that is coming across those borders and criminals. Not so good guys. If you lived on those borders, you wouldn't be too happy about it."
Mr Trump pledged to build the wall when he announced his intention to run for president in June 2015 after branding Mexican immigrants as rapists and criminals.
Voight, who won a Best Actor Oscar in 1979 for Coming Home, first publicly endorsed Mr Trump in March this year, calling the entrepreneur "funny, playful" and "honest".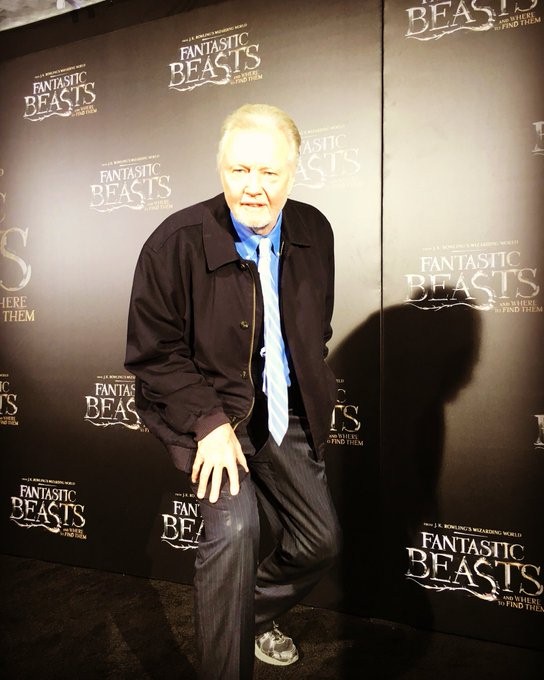 #JonVoight gives us a great pose for the camera at the #FantasticBeasts premiere in NYC.
Megyn Kelly's tell-all book.
Megyn Kelly has a new tell-all book coming out about her time at Fox and the New York Times have got their hands on a copy. In the book, Ms Kelly reportedly suggests she was poisoned on the way to the first Republican primary debate.
On the day of the debate, Ms. Kelly writes, she woke up feeling great. Then an overzealous, suspiciously enthusiastic driver picked her up to take her to the convention center. He insisted on getting her coffee, though she'd repeatedly declined his offer. Once it was in her hand, she drank it.
And within 15 minutes, she was violently ill, vomiting so uncontrollably that it was unclear if she'd be able to go on and help moderate that evening. It was so bad that she kept a trash pail beneath her desk throughout the debate, just in case.
She also hints that the Trump campaign was in collusion with Fox, or at the very least, Roger Ailes, the network's chairman until July, and that he was being leaked information.
The day before the first presidential debate, Mr. Trump was in a lather again, Ms. Kelly writes. He called Fox executives, saying he'd heard that her first question "was a very pointed question directed at him." This disconcerted her, because it was true: It was about his history of using disparaging language about women.
Warren has spoken to Clinton.
US Senator Elizabeth Warren says she has spoken with Hillary Clinton after her defeat in the election on Tuesday.
In an interview with MSNBC's Rachel Maddow, she was asked how Clinton was doing. Warren paused before hesitantly stating, "Good."
"Look, it's hard. It's really hard. She worked hard. She has had 25 years of public service. . . She has fought for women, for children, for health insurance, for human rights. That has been a defining feature of her life. And this is hard. I respect what she has done and tried to do for this country and for people around the world."
She also said the Democrats would continue to battle Mr Trump.
"We are going to be smart, we are going to be organised, we're going to use our time and talents in a strategic and careful way, but we are going to fight back. We are not going to turn this country over to what Donald Trump has sold."
Trump bucks protocol on press access.
Donald Trump is keeping Americans in the dark about his earliest conversations and decisions as president-elect, bucking a long-standing practice intended to ensure the public has a watchful eye on its new leader.
Mr Trump on Thursday refused to allow journalists to travel with him to Washington for his historic first meetings with Barack Obama and congressional leaders, the AP reports. The Republican's top advisers rebuffed news organisations' requests for a small "pool" of journalists to trail him as he attended the meetings.
Hope Hicks, a Trump spokeswoman, said the president-elect's team expects "to operate a traditional pool and look forward to implementing our plans in the near future."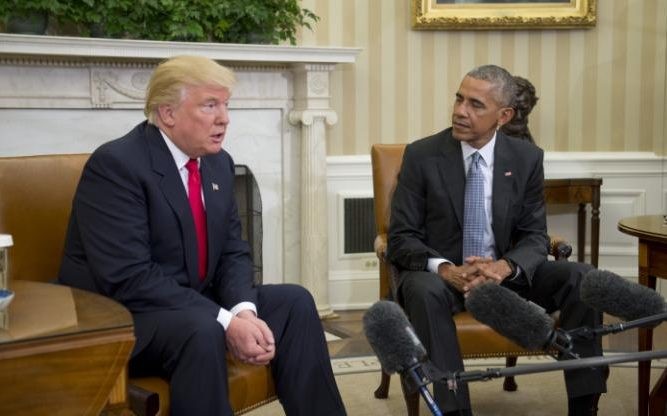 But that didn't ease fears among reporters. The White House Correspondents' Association, which coordinates press pools and advocates for transparency at the White House, urged Trump to allow journalists to cover his meetings and other movements.
"This decision could leave Americans blind about his whereabouts and well-being in the event of a national crisis," said Jeff Mason, White House correspondent for Reuters and the group's president. "Not allowing a pool of journalists to travel with and cover the next president of the United States is unacceptable."
Protesters take to streets for second night.
These are the protests that the president-elect has called unfair.
Thousands of demonstrators have taken to the streets in several US cities for a second night.
In Salt Lake City, Utah, about 2,000 anti-Trump protesters disrupted local transport as they took to the streets.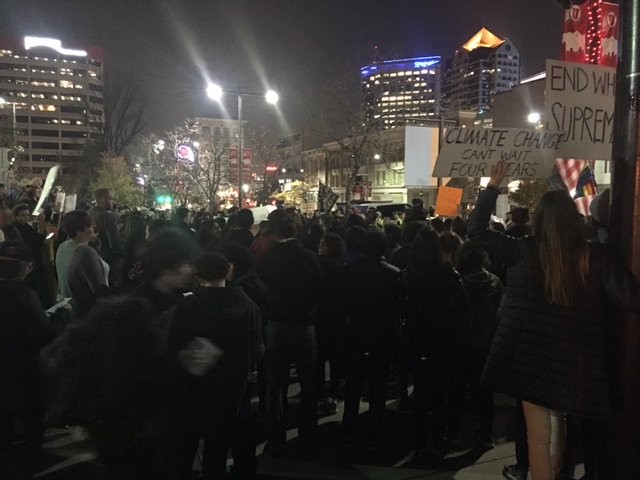 BREAKING: 2,000 anti-Trump protesters are causing delays on the TRAX Red Line at 400 S State St. Buses en route. Photo from Braydon Ball.
Shouting "Not my president!" and carrying placards that read "I did not elect hate for president," some 300 people marched in Baltimore.
Protests were also taking place in Chicago, Denver, Dallas and elsewhere.
"We are just showing that this is going to be the next four years, it'll be four years of resistance," Kaila Philo, a 21-year-old student, told The Baltimore Sun.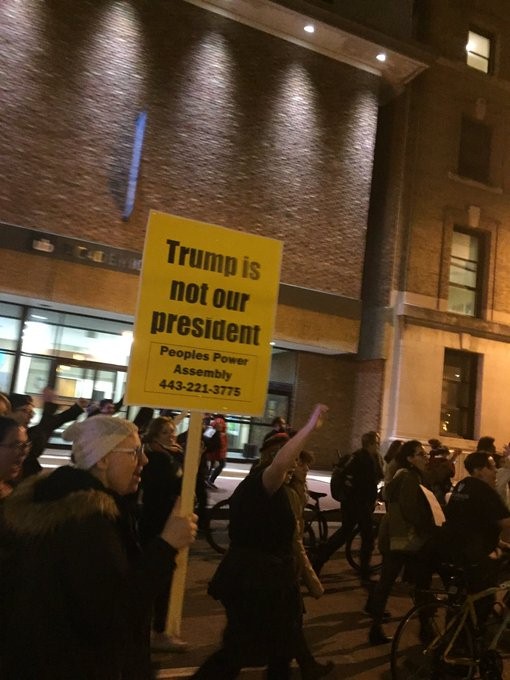 Yellow George Soros Signs All Over Baltimore Anti-Democracy Protest
She said she had created an event on Facebook for her friends that ended up attracting thousands.
Earlier on Thursday, demonstrators - mostly students who skipped classes - also marched in San Francisco, Los Angeles and other cities.
Some 1,000 students, most of them high-schoolers, marched through San Francisco's financial district toward City Hall chanting "Not my president!" and blocking traffic. Some also carried placards that read "Trans Against Trump" and "Make America Safe For All."
Anti-#Trump protesters march through DC heading towards Trump International Hotel chanting "We reject the president-elect" #TrumpProtest
"We are protesting because we want to stand up for our rights and we deserve to be heard," Pamela Campos, 18, told the San Francisco Chronicle.
"Donald Trump is just racist. He's attacking all the immigrants, all the Muslims. I saw all my classmates crying yesterday."
Protests 'unfair', says Trump.
Donald Trump has accused thousands of protestors who have taken to the streets of US cities of being "unfair" and suggested their actions are being "incited by the media".
The President elect said that after a "very open and successful election" he is now the victim of "professional protesters". "Very unfair," he said.
Just had a very open and successful presidential election. Now professional protesters, incited by the media, are protesting. Very unfair!
The president-elect appears to be back on Twitter after his aides reportedly wrested away his Twitter account in the final days of the campaign.
Trump's body langauge.
A body language expert has given his verdict on the awkward meeting between Barack Obama and Donald Trump. Given both men had shown disdain for each other in recent years, the encounter was always going to draw extra scrutiny.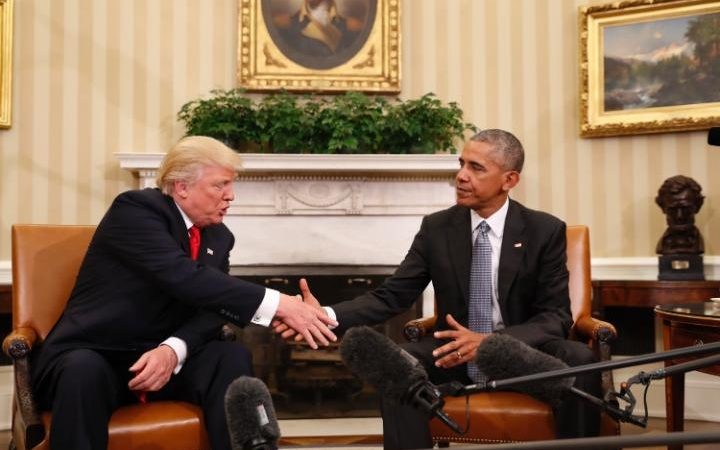 Trump and Obama CREDIT: AP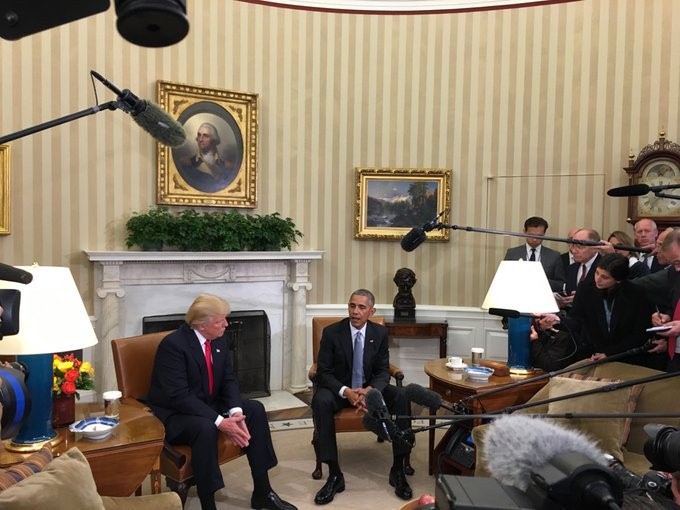 Trump and Obama CREDIT: REX
Analyzing the way both men sat and used their hands, expert Patti Wood said Mr Obama was "extremely fatigued, resigned and not hopeful", while Mr Trump was "tentative, serious and perhaps fearful".
"If you look at the seating position - their lower legs, they are both in the male, alpha position saying 'I am a man'," Ms Woods told MailOnline. However, she adds that Mr Obama's legs are much further apart, suggesting "I'm still on top".
It was Mr Trump's hands that caught Ms Wood's attention - he put them in a "downward prayer position".
"My read is that he has learned something he didn't know before. It's a tentative hand position."
Hillary Clinton pictured walking her dog.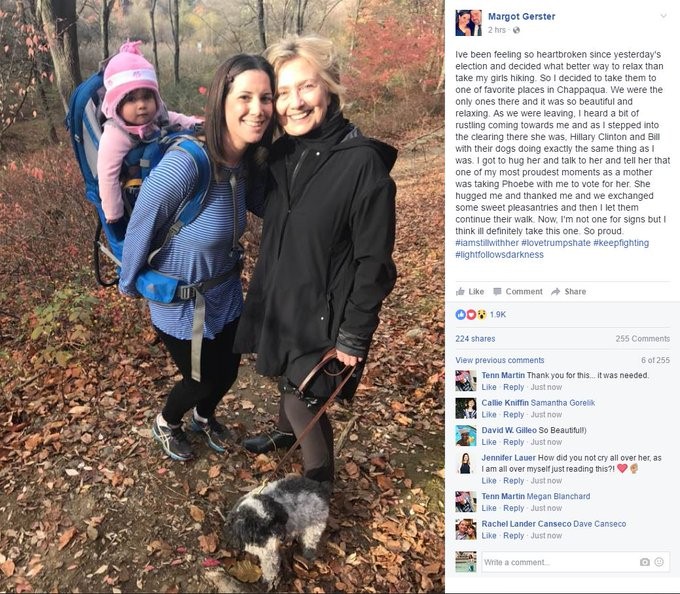 Margot Gerster went on a hike this morning to clear her head. Looks like someone else had the same idea:
Martin Shkreli makes good on Wu-Tang Clan promise.
Martin Shkreli, the pharmaceutical executive who enraged America by buying an Aids drug and hiking the price by 5,000 per cent, has released music from the only known copy of a Wu-Tang Clan album he owns exclusively - to celebrate Trump's victory, Harriet Alexander writes.
On October 27 the businessman, who faces a fraud trial in July, announced he would release the music if Trump won.
He bought the only-known copy of the album for $2 million.
And after the election, he appeared on the livestream platforms Periscope and Hitbox and said: "I will be releasing this music over a long period of time. But let me play a little bit of it now."
Sipping from a Coca-Cola can, he grinned and bopped his head a few times as he played the introduction of the album, "The Wu — Once Upon a Time in Shaolin."
He said he was still deciding how to play other portions of the music.
"I've got to decide how to put out — there's about 30, 35 tracks.
"I actually have a contract with the Wu-Tang Clan where I'm not allowed to do this. Obviously, I own the music and I bought it and I paid a lot of money for it. In many ways, the contract shouldn't matter that much.
"But I am a man of my word; I had to play a little bit of it."
New Yorkers vent Trump anger on subway Post-it notes.
New York commuters are venting anger and frustration over Donald Trump's shock victory by indulging in collective therapy - writing messages on Post-it notes and sticking them on a subway wall.
"Am I the only one who is scared?" "I need a hug" and "I am angry" number among the thousands of messages written on multicolored squares of paper fixed to a tiled wall in a tunnel at Union Square station.
By Thursday afternoon, it boasted some 3,000 notes, an astonishing production in just 24 hours since New York artist Matthew Chavez parked himself there with a table and a sign advertising free "subway therapy."
He got the idea earlier this year of setting himself up in the subway from time to time offering stressed-out New Yorkers opportunities to let off steam by writing little notes.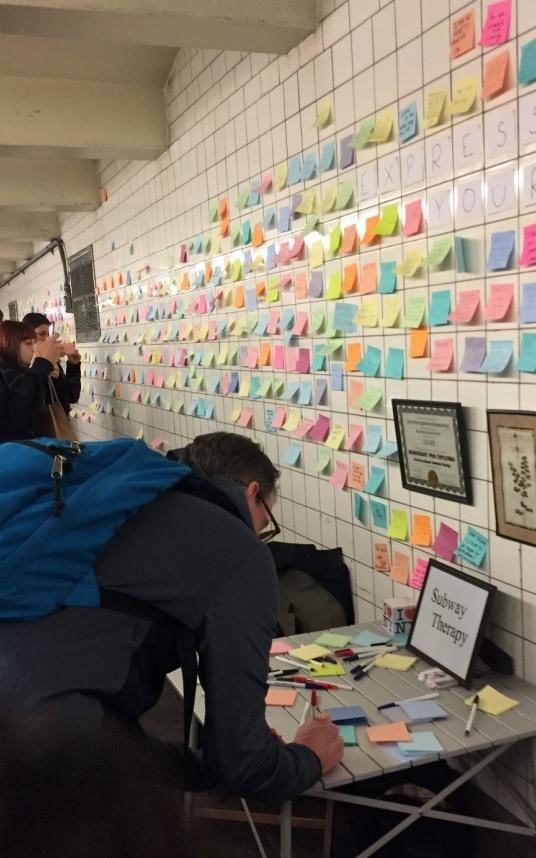 Thank you for the invitation. I appreciated the warm reception by you and your staff. https://twitter.com/vp/status/796853101978390532 …
I just met with @VP-elect Pence at the @WhiteHouse to offer our support for a smooth, seamless transition of power: http://go.wh.gov/Gi53Jr
Mexico President Pena Nieto optimistic about US relationship.
Mexican President Enrique Pena Nieto has said he was optimistic Mexico could come up with a new, positive bilateral relationship with the United States after the election of Donald Trump as president.
"I have real optimism that we will be able to build a new working agenda in the bilateral relationship that would be positive," Pena Nieto told a conference. "It will also benefit the societies of both countries."
Pena Nieto said on Wednesday that he and Trump have agreed to meet, possibly during the transition period before his inauguration on Jan. 20.
Mike Pence, the vice president-elect, has spoken to Boris Johnson, the Foreign Secretary.
Just spoke to @BorisJohnson. Discussed America's longstanding and close relationship with the UK. https://twitter.com/borisjohnson/status/796852550150619136 …
Just spoken to US VP-elect @mike_pence. We agreed on importance of the special relationship & need to tackle global challenges together
Howard Dean to run for DNC chairmanship.
Howard Dean is running for chair of the Democratic National Committee
The dems need organization and focus on the young. Need a fifty State strategy and tech rehab. I am in for chairman again.
He held the position from 2005 to 2009, but of course is best known for this from his 2004 presidential bid...
Nigel Farage to be Donald Trump's go-between amid claims Special Relationship with US is faltering.
Government ministers will use Nigel Farage as an unofficial intermediary to build bridges with Donald Trump following accusations that the "special relationship" is faltering in the wake of his election.
The Telegraph understands that ministers will be forced to seek Mr Farage's advice because they have no links to the President-elect's inner circle.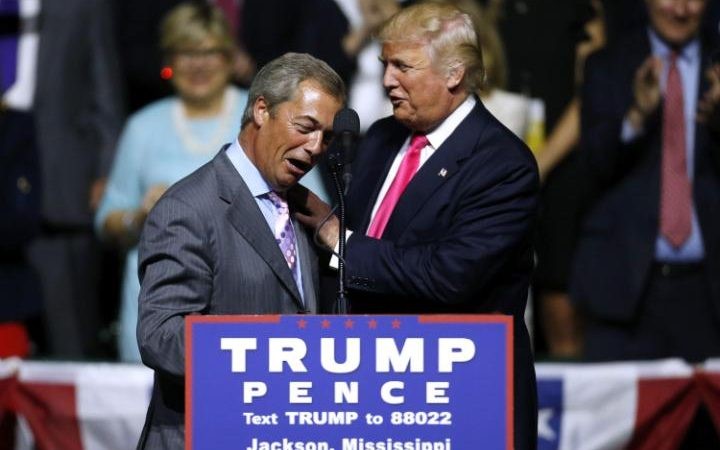 Nigel Farage and Donald Trump CREDIT: GETTY
Mrs. May spoke to Mr Trump for the first time since his victory – but not until after he had spoken to the leaders of at least nine other nations.
Downing Street said that during the call, Mr Trump said that the UK is a "very, very special place for me and for our country" and suggested that he wants their relationship to be similar to the one enjoyed by Margaret Thatcher and Ronald Reagan.
But the delay in talking to the President-elect led to accusations that the Government had undermined its relationship with Washington by failing to anticipate Mr Trump's success.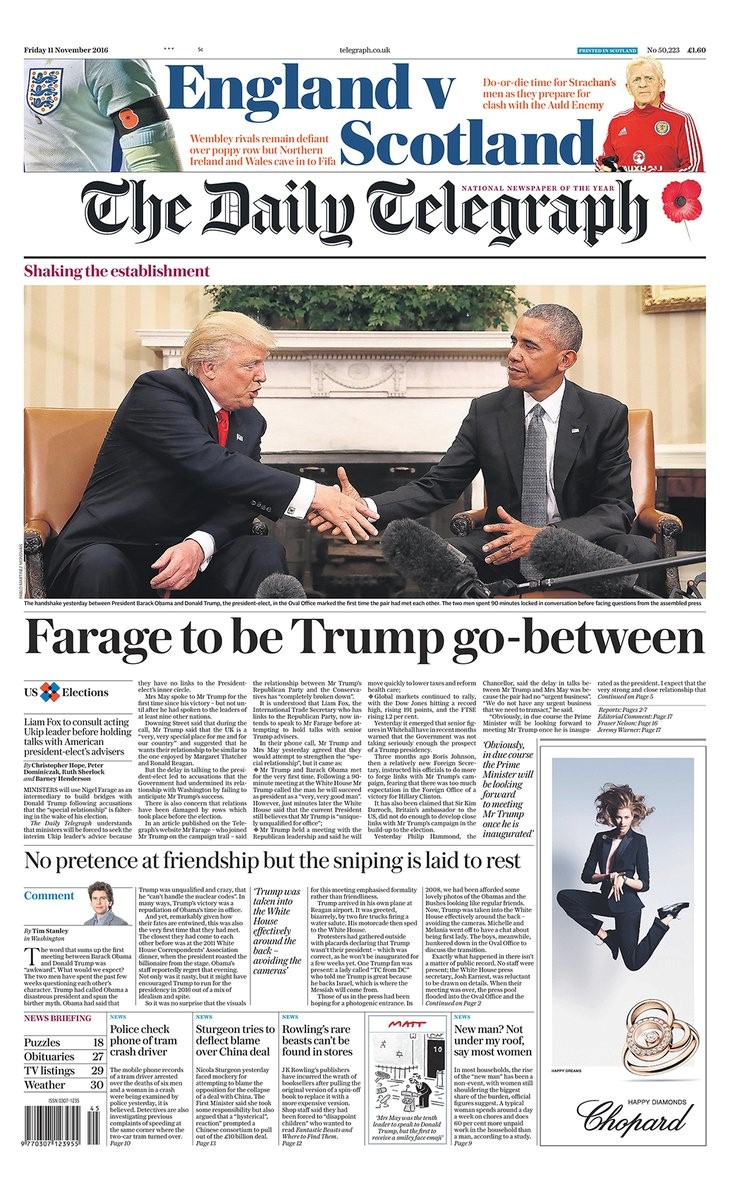 Tomorrow's front page: "Farage to be Trump go-between"
And finally
• Obama says it was "an excellent conversation" with Trump at the White House.
• Trump calls Obama "a very, very good man".
• Melania Trump also meets the first lady.
Follow us on Twitter - @akatechsolution / @smartdevicess
Leave a Comment
Let Millions of People know about your Product(s) / Service(s)
Target a Specific Audience on different News Categories
"Making the simple complicated is commonplace; making the complicated simple, awesomely simple, that's creativity"
- Charles Mingus